Guide to Beautiful jeju International Marathon

All participants should assemble Kujwa Sports Park by 8:30AM on Saturday October 13. The Half course will start at 9:30AM, and the 10&5km will follow approximately 10minutes afterwards. however, it is highly recommended that all participants to be at he Kujwa no later than 8:30AM to warm-up and baggage check-in.

The organizing committee is responsible for providing first aid and medical care for any acidents or injuries occurring during the race. In case of a chest pain, a body temperature drop, muscle spasm, headache or any other minor pains, you must seek aid from the staff, Additionally, you can find race patrol teams and an inline skate team to be helped

◎ Guide to Beautiful jeju International Marathon

October 13, 2018(Sat) am 09:30
AROUND Gujwa Life Sports Park
The Organizing Committee of the Beautiful jeju International Marathon
217, Jungang-ro, Jeju-si, Jeju-do, Korea
TEL: 82-64-711-7033 FAX: 82-64-747-7689 E-MAIL: runjeju@naver.com
http://marathon.jejusori.net
◎ Entry fee
Half Marathon : 30,000 KRW 10K : 20,000 KRW, 5K : 20,000 KRW
Race
Entry fees
Qualification
Time Limit
Souvenirs
Note
Half
30,000 KRW
Anyone at least 18 years of age
on the race day
3hour
T-shirt, Finisher's medal,
Record certificate
Chip use
10km
20,000 KRW
Anyone who is physically healthy can enter 10km and 5km race.
2hour
T-shirt, Finisher's medal,
Record certificate
chip use
5km
20,000 KRW
1hour
T-shirt, Finisher's medal
No chip use
Account number
Bank name
Account holder
08-01-200421
JEJUBANK
(유)제주의 소리
JEJUSORI
963-01-100916
NH NongHyup
◎ Course Map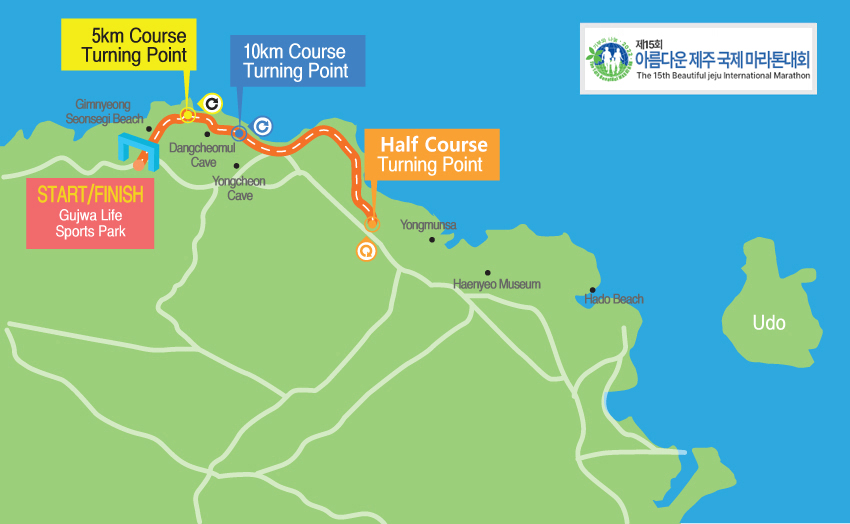 ◎ Refund Policy
Application for refund is only available until the date specified below. In case of cancellation, the amount after deducting remittance charge will be refunded (Account transfer 5%, Credit Card 10%) back to you. After the refund deadline, any cancellation or refund becomes unavailable without any exception.

① Refund deadline: September 28. 2018(Friday)
② How : Apply for refunds either by Email (runjeju@naver.com) or fax (82-64-747-7689)
③ Date of refund : October 5. 2018(Friday)
④ When withdrawing marathon application, please leave your personal and bank details (name, D.O.B, phone number, bank name,
account holder, account number etc.)
◎ Timing Chip and bib number
We will send timing chip and bib number to masters by express delivery system. All the participants should wear the bib number on their chest during the race. The bib number must not be changed or removed during the race. If it is changed or impaired, the runner can be disqualified. The chip should be returned immediately after the race.
◎ Transportation
209, Gimnyeong-ro, Gujwa-eup, Jeju-si, Jeju-do, Korea

◎ Changing Room and Depository

Changing room and depository will be set near the main stage, but participants are encouraged to keep their valuables with them.
◎ Medical Service
① Athletes arriving at a station after it has closed automatically lose the right to continue running and must follow the instructions of the officials.
② During the race, if a participant experiences difficulty in running or if any unexpected problem arises, he/she shall contact the nearest available attendant or official of the Organizing Committee and follow their instructions.
③ An athlete shall immediately stop running if ordered to do so by an attending medical official or by the referee, and follow their instructions.
④ For your safety and health, please refrain from overrunning yourself.

◎ For further information
The Organizing Committee of the Beautiful jeju International Marathon
217, Jungang-ro, Jeju-si, Jeju-do, Korea
TEL: 82-64-711-7033 FAX: 82-64-747-7689 E-MAIL: runjeju@naver.com
http://marathon.jejusori.net